Crowns
Improve the appearance of your teeth with crowns.
Crowns or "caps" are used to restore teeth which have suffered extensive damage due to decay or fracture. Crowns are also used to improve the appearance of teeth.
Crowns can be made of porcelain, porcelain and metal or all metal. Location, ethetic and function demands are considered when selecting which type of crown to use. Crowns generally cover over most of a tooth whereas a veneer will only cover over part of the tooth.
Before & After
Dawn's crowns still look great after more than 7 years.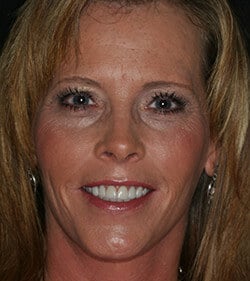 Testimonials & Clients
Read some of the amazing results our clients have to share.
Tooth Implants
I recently had Dr. Henny help me by having four teeth implants and crowns done. I was initially afraid to do this, but he helped me understand why it was a good idea and made the whole process pretty easy. I am so happy that I did this, because now I can chew so much better and I now longer need to wear a partial - which I always hated! James Miller
Sleep Apnea
I am so grateful for Dr.Henny's help with my sleep apnea issue. I was unable to wear the CPAP machine and it was driving my wife crazy with all the noise. The bite appliance Dr.Henny made for me is so much easier to use than CPAP, and the quality of my sleep is so much better now! No more dozing off at work and my wife is so much happier!!! Donald Strathmore
Great Experience!
all the hype about dr henny and this staff was pretty hard for me to believe, so i decided to go in and meet with him while holding a bit of skepticism in the back of my mind. i had eight of my upper front teeth capped about three years ago, and i cried when the dentist showed them to me when he was done - and i mean cried in a bad way. they looked horrible and nothing like natural teeth. dr henny helped me learn what was wrong with my caps and what my choices were relative to having the dental work corrected and improved.i am so excited about restoring and improving my smile, that i have hope again! Janice