Crowns
Improve the appearance of your teeth with crowns.
Crowns or "caps" are used to restore teeth which have suffered extensive damage due to decay or fracture. Crowns are also used to improve the appearance of teeth.
Crowns can be made of porcelain, porcelain and metal or all metal. Location, ethetic and function demands are considered when selecting which type of crown to use. Crowns generally cover over most of a tooth whereas a veneer will only cover over part of the tooth.
Before & After
Dawn's crowns still look great after more than 7 years.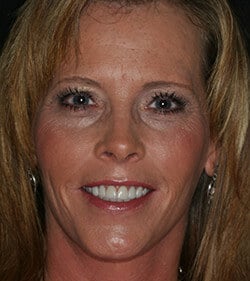 Testimonials & Clients
Read some of the amazing results our clients have to share.
Tooth Implants
I recently had Dr. Henny help me by having four teeth implants and crowns done. I was initially afraid to do this, but he helped me understand why it was a good idea and made the whole process pretty easy. I am so happy that I did this, because now I can chew so much better and I now longer need to wear a partial - which I always hated! James Miller
Crown
I have had such uncomfortable dental work in the past. Dr. Henny did several crowns and I have been pain free with no reoccurring problems. I am so relieved and very pleased! Dr. Henny and his staff made me feel so comfortable and the procedure was stress-free! Grace Thomasson
Amazing!
I found Dr. Henny and his staff to be an amazing discovery. I had recently moved to the Roanoke area from Phoenix, and I had some very complicated old dentistry that was failing. Dr. Henny and his team helped me figure out what was going on, as well as what my best choices were under the circumstances. The treatment process was comfortable and I am extremely pleased with the outcome. Denise